About Us
Greeting From President of CWA
Cambodia has been facing with water supply issues over decades. Many people do not have access to clean piped water particularly with the community in the rural and remote areas which approximately 70% of population who lives within the rural and remote areas in Cambodia.
Lack of access to clean piped water, it could be effected to various issues with the population who living in the rural and remote areas, including health and hygiene, and household's economic status, and education.
In 2011, a group of private water operators have collaboratively established a water supply association known as "Cambodian Water Supply Association" or "CWA" in order to build strong synergy and collective willingness and commitment to professionalize, including advocacy, and share knowledge and experience, and equal opportunity among the water operators with the common goal on "everyone must have access to clean and safe water".
CWA is also play an important role with contribution to the poverty reduction as addressed in the Cambodian government strategy. The Cambodian Water Supply Association is a voice and a representative on the behalf of CWA members, our efforts is to address all relevant water supply issues that faced by our members. Sometime, it's very difficult to do the representative without the participation of our members. CWA can also provide you with new knowledge, professional development opportunities, mentoring opportunities, and solving your dilemmas!
As president of the CWA, I would like to invite you to get involved as a member, sponsor, contributor, and/or as part of our journey to move forward for a better services for our customers and Cambodian people who are waiting for the good quality of water inside their houses.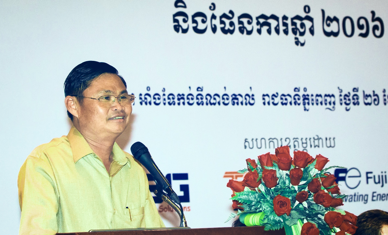 About CWA

Cambodian Water Supply Association (CWA) is an independent, non-profit and non-political organization which brings together all private water suppliers in Cambodia and acts in the interest of the members of the Association.
Our Team

Riel Vira...
Program Manager
Saraen Hin...
IT Assistant
Long Sithy...
Admin and Finance Manager
Toch Sokunthea...
Project Coordinator
Lim Minh...
Business Development Manager
Khat Davy...
WASH Technical Officer
Em Sarom...
Communication Offficer
Chrin Phat...
Senior Water Supply Engineer
Former Staff

Dek Vimean Pheakdey...
Vouen Chhorvorn...
Phea Marina...
SOK Samedy...
Sdeung Ouk Sovannarith...
Douk Mary...
Hor Khykeng...
Un Yuthy...